Meet Dr. Williams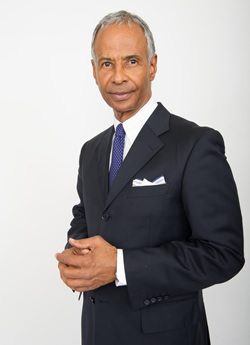 Dr. George, as called by his patients, has practiced quality family and esthetic dental care for over thirty years. He attended Savannah State College and received his D.M.D. degree from the Medical College of Georgia in 1975. After graduating from dental school, he practiced in his hometown, Florence, S.C. with his father, his greatest mentor in dentistry. He has opened practices in Savannah and Atlanta, Georgia and currently in New York City.
Dr. George holds active memberships in the American Dental Association, American Association of Cosmetic Dentistry, American Academy of General Dentistry, and the New York Dental Society. He is listed in the 2006 Consumer Research of America's Guide "Best Dentist in America". Dr. George is on the faculty at the New York University College of Dentistry as a Clinical Assistant Professor in the department of Cariology and Comprehensive Care. Also, he is the Board Chair of the Negro Ensemble Company and Board Member of the Jackie Robinson Conservancy.
---
Quotes by Dr. George:
"Your smile is your most valuable asset. It makes a statement about who you are. It is the focal point of your face."
"We recognize that our patients not only expect that their teeth are healthy, but free of pain, fully functional, and that they also look great."